MOVE – Mobile Occupational & Vocational Education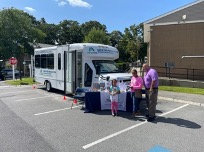 MassHire GBWB now offers local employers/organizations a clean, comfortable, mobile training site inside of a modernly-renovated 25-foot bus containing 8-10 work stations with computers and internet with room for an instructor. The bus is equipped with a wheelchair lift and has a handicapped accessible work station. This mobile learning lab will provide a dedicated space in which groups of employees may receive training on a variety of job-related topics such as: ESOL, Microsoft Office, customer service, leadership, etc. Being mobile and self-contained, this training incubator can be parked conveniently on company property and enhances the ability for a company to easily provide training to strengthen the skills of its workers.
The mobile learning lab may also be utilized to extend into harder to reach areas of the community the programs and services delivered by MassHire Greater Brockton Career Center. We know that many individuals either do not have proper transportation, do not utilize public transit, or are unaware or uninterested in the services offered at the Career Center. With this new asset, MassHire Greater Brockton Workforce Board and partners now have an ability to serve more individuals.
Would you like a visit from the MassHire Greater Brockton Workforce Board MOVE?"