Board & Committees
The Full Board is a business-led, policy-setting Board that oversees workforce development initiatives in our ten-community region. MassHireGBWB along with the Mayor of Brockton, charters MassHire Greater Brockton Career Center operated by the University of Massachusetts Donahue Institute. The Board also provides services to youth ages 14-24 through our Youth Career Center. Providing oversight and leveraging resources, MassHireGBWB works with our community leaders to respond to current workforce development trends in our region. The Full Board meets quarterly on the 3rd Thursday of the month.
Executive Committee, Joe Lovetere, Chair



Serving as the authorizing Committee between Full Board meetings in regard to fiscal & administrative duties, the Executive Committee is comprised of the Chairs of the three Standing Committees along with three at large members from the greater Board.  The Executive Committee meets the 1st Thursday of the month.
Young Adult Initiative Committee, Mary Waldron, Chair
Comprised of Board members, staff and members of the region who are committed to engaging youth 14-24 in career & workforce activities. Participation includes targeted youth population, regional representation, local high schools, vocational schools, private high schools, institutions of higher education and community youth serving organizations. Meets quarterly 2nd Wednesday of the month, 3:00 p.m.
Career Center Business Committee, Joe Lovetere, Chair
This committee strategizes how to best serve our customers in the 10 communities we serve for employment and workforce activities.
Comprised of Board members, staff, members of the One Stop Career Center and workforce partners within the region.  Meets monthly, 2nd Friday at 8:30.
We welcome members of our community to offer input through Committee & Board membership.
The Board strives to keep current on local issues and invites subject matter experts to present on key issues affecting our communities.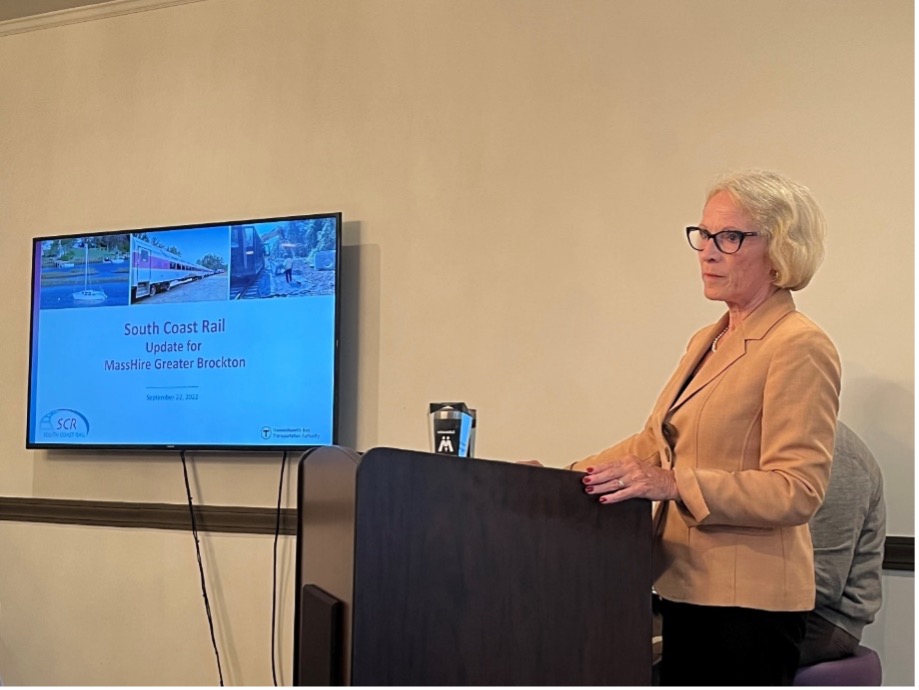 Jean Fox Project Manager, South Coast Rail Project Manager, South Coast Rail Mass DOT speaks at the 2022 Annual meeting on transportation in our region.